Exhibit Guidelines & Sub-Menu
Exhibit Guidelines
1. Exhibit Space Fee (Special rate for overseas exhibitors only.)
Japanese Yen 316,800 per booth
1 Unit Booth · 9sqm. (3m(w)×3m(d))
(10% Japanese consumption tax are included)
Bank Charge is to be paid by the applicant additionally. Chargeable JPY 10,000 for each bank remittance.
2. Corner Booth Reservation
When applying for exhibition space, the corner booths can be reserved for an additional fee.
Japanese Yen 110,000 (including tax)
The above mentioned fee applies regardless of the number of booths.
If an application is made for 4 or more booths, then in principle, at least one corner booth will be allocated without the above mentioned fee.
If the type of booth is not specified in the application, arrangements will be made based on the number of booths, order of application, etc.
3. Application Deadline
February 26, 2021
(Application will be closed prior to the deadline once all booths are booked.)
4. Application to Exhibit
Please complete the attached exhibition application form and send it by E-mail to GPEC Management Office.
E-mail: ofc@gpec.jp
5. Withholding or Rejection of Application
In case the management office judges the exhibit inappropriate for this exhibition, the management office may withhold or revoke the application.
6. Payment of Exhibit Space Fee
After the approval of the contents of the application form, the management office will send you an invoice.
Please pay your exhibit space fee by March 31, 2021.
* Japanese yen cash remittance only.
* Bank charges must be paid by applicants. Chargeable JPY 5,000 for each bank remittance.

7. Cancellation
Once an application is accepted, no withdrawal is allowed as a general rule. If the management office deems it legitimate, however, application may be withdrawn with payment of prescribed cancellation charge.
| Date of Cancellation (in writing) | Cancellation Charge |
| --- | --- |
| Before March 31, 2021 | 50% of Total Exhibit Space Fee |
| After April 1, 2021 | 100% of Total Exhibit Space Fee |
8. Alternation and Cancellation of the show
The organizer and management office reserve the right to postpone indefinitely or cancel the show if the exhibition has become unable to be opened on account of force majeure (earthquakes, disasters, war, terrorism, epidemics diseases or infectious diseases, other disturbances, etc.) In these cases, the organizer and management office will refund the exhibit fee based on the following rate. If the applicant has not paid the fee at the time of alternation or cancellation, the applicant will pay the difference between the exhibit space fee and the refund amount based on the following rate.
Refund rate of the exhibit fee
| | | | |
| --- | --- | --- | --- |
| 1. Application date | 〜 | March 31, Wed., 2021 | : 100% |
| 2. April 1, Thu., 2021 | 〜 | May 31, Mon., 2021 | : 70% |
| 3. June 1, Tue., 2021 | 〜 | July 9, Fri., 2021 | : 50% |
| 4. July 10, Sat., 2021 | 〜 | July 16, Fri., 2021 | : 0% |
9. Basic Booth
A basic booth is shown below.
The management office will provide a back panel and side panels.
* Carpet will not be provided for booths.(option item)
* Panels will not be provided for Island booths.
* One of the side panels will not be provided for corner booths.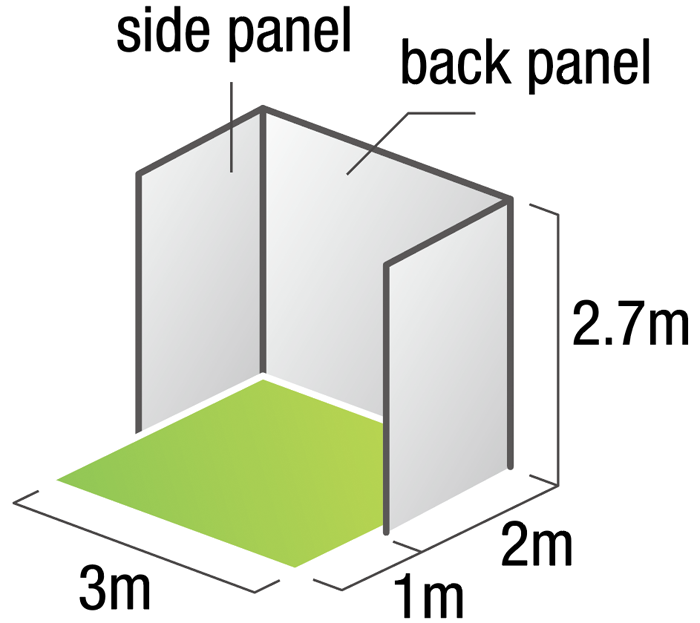 10. Booth Type
Available three types of booth (Refer to application form):
Single- row booths, double-row booths (applicable for 4 booths or more),
Island booths (applicable for 12 booths or more (scheduled)).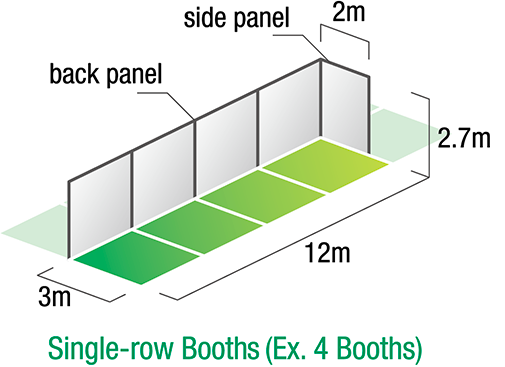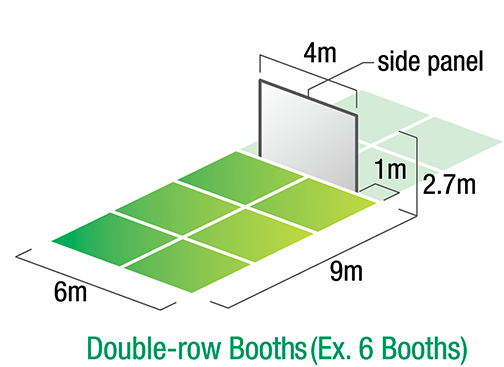 11. Booth Allotment
The organizer and management office decides booth allocation taking into consideration the exhibits, number of booths and demonstration plans, etc.
12. Not Included in the Exhibit Fee:
Booth decoration and operation expenses.
Installation and usage of electricity and utilities.
Official guidebook advertising fee.
Damage insurance for the exhibits, etc.
Expense for injuries arising during exhibition or while transporting equipment.
Renovating exhibits and decorations, etc., required by regulations and exhibition rules.
Other expenses not included in the basic booth.
13. Other Rules
Other details and regulations will be explained in the Exhibitors' Manual which will be sent to applicants later.
Sub-Menu
Exhibitor's Presentation
A special stage is available in the hall for various presentation such as the introduction of services and new products.
Appeal to the audience strongly so that it's easy to lead visitors to your booths after the presentation ends.
Fee : JPY 55,000 per 30 min (including tax)
Application Deadline : March 31, 2021
- Seating capacity : 80 persons
- Attached equipment : projector, screen, chairs, speech table, desktop microphone
* If you need other equipment or facilities, please contact to show management office.
Official Guidebook Advertising
The official guidebook will be handed to all visitors free of charge.
It contains information of the exhibits, seminars and events of GPEC.
Advertising Fee
| Type | Color | Fee (including tax) |
| --- | --- | --- |
| Back Cover | 4 | JPY 297,000 |
| Inside Front Cover | 4 | JPY 275,000 |
| Inside Front Cover Opposite | 4 | JPY 253,000 |
| Inside Back Cover | 4 | JPY 253,000 |
| Inside Back Cover Opposite | 4 | JPY 231,000 |
| Inside Pages | 1 | JPY 88,000 |
Application Deadline : May 28, 2021
Final advertising material needs to be submitted June 11, 2021.
Advertising Size : 297mm × 210mm
Please submit your advert in finished form, at the correct size and ready to go to the printer.
We accept adverts in either of the following formats :
* An EPS or PDF file with all images (including logos) embedded, and fonts converted to outline.